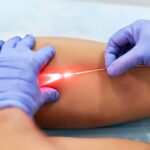 What Happens During Same-Day Leg Vein Treatment in Perry Hall?
October 28, 2023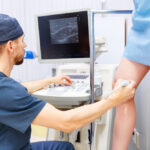 What Services Does a Same-Day Vein Doctor in Bel Air, Maryland Offer?
October 31, 2023
Who to See and How to Choose A Vein Specialist
With this quick guide, you can be confident in choosing an advanced varicose vein specialist in Ellicott City, Maryland who is experienced, knowledgeable, and dedicated to providing you with the best possible care.
What Types of Doctors Can Treat Varicose Veins?
There are several types of healthcare professionals who can diagnose and treat varicose veins, including:
Phlebologists: Their main focus is on diagnosing and treating vein-related conditions including spider veins and varicose veins, particularly those found in the legs. Treatments offered by a phlebologist may include sclerotherapy, endovenous laser ablation treatment (EVLT), and ligation and stripping, as well as other minimally invasive options.
Interventional radiologists: This type of specialist treats venous disorders and diseases utilizing endovenous laser ablation and other minimally invasive options.
Vascular surgeons: A vein surgeon performs invasive surgeries and provides complex treatments for severe venous conditions when necessary.
How Do You Choose an Advanced Varicose Vein Specialist in Ellicott City, Maryland?
Your relationship with your doctor is a crucial aspect of your treatment journey. Your provider should have the proper qualifications and certifications. Look for board certification in related fields such as phlebology to ensure they have undergone the proper training and passed rigorous exams to demonstrate their knowledge.
Additionally, it's crucial to select a specialist offering vein procedures tailored to your specific requirements. They should be able to address your condition and diagnose underlying issues if any.
Make sure you feel comfortable in their care. You should be able to ask questions and address concerns safely, and your provider should explain your diagnosis and treatment options in detail.
For Outstanding Vascular Care, Choose The Vein Center of Maryland
Your search for an advanced varicose vein specialist in Ellicott City, Maryland is over now that you've found us! Not only do we have an office in Centennial Square Office Park, but we have five other locations for your convenience.
Contact us today at 410-970-2314 to book an appointment for a free vein consultation with board-certified phlebologist Dr. Yash Kumar, and be on your way to better vascular health.