Laser Hair Removal in Maryland
The Cutera Excel HR™ laser hair removal system was developed to provide advanced premium laser hair removal solutions for every skin type.
Why is laser hair removal the largest segment of energy-based medical aesthetic procedures? It's a fact that both men and women have hair in a lot of unwanted areas. From at-home waxing, to shaving or even more painful solutions like electrolysis, people are usually looking for the most effective treatment.
Laser hair removal is the simple solution you've been looking for.
According to Cutera, laser hair removal the volume of laser hair removal procedures performed in the United States reached 2.5 million in 2017–making this procedure a sensible convenience in today's cosmetic world.
Stop shaving and stop throwing money away on color dye. You can experience up to six months (half a year!) of complete hairlessness in treated areas after undergoing a laser hair removal procedure.
How Laser Hair Removal Works
At the Vein Center of Maryland, the 1064nm wavelength of the Cutera Excel is used for  effective laser hair removal.
Typically, four-to-six laser hair removal treatments are required for the best results to be seen.
Patients with light-colored hair (other then black) may require more treatment sessions with higher settings to see best results.
By principles of photothermolysis, as the hair follicles heat up, they shut down.
Different Skin Colors
In short, laser hair removal is most effective on people with dark hair and light skin. The more melanin in the hair, the more light that it will absorb—and in turn, heat up faster and die out.
Those of us with darker skin aren't out of luck, the treatment still works.
As previously mentioned, those of us with lighter-colored hair may just require more treatments.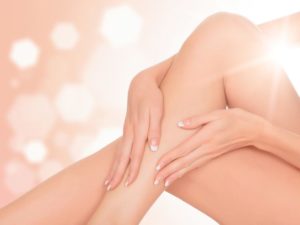 Laser Hair Removal Results & Recovery
There will be a slight tingling sensation over the treated areas undergoing the laser pulses. It's very tolerable, but topical numbing cream can also be applied prior to the procedure.
The treatment can take up to 90 minutes for larger areas like your back or both of your legs.
Upper lips can be taken care of within five-to-15 minutes. Underarm hair? Half an hour of laser treatment and you're set.
You'll walk out of the office with no more discomfort than a mild sunburn. In just a few days, hair from the treated area will fall off completely.
All it takes for ideal results is four-to-six visits.
Laser Hair Removal: Before & After Photos


Laser Hair Removal at the Vein Center of Maryland
Call the Vein Center of Maryland to schedule an appointment for Laser Hair Removal today. We are conveniently located in Westminster, Eldersburg, Baltimore, Hunt Valley and Bel Air.