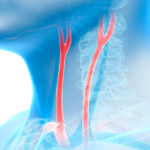 Doctor for Carotid Artery Disease in Maryland
October 23, 2023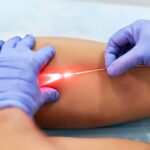 What Happens During Same-Day Leg Vein Treatment in Perry Hall?
October 28, 2023
Varicose veins, those unsightly, bulging vessels that often appear on the legs, are sometimes more than just a cosmetic concern. For many individuals, they bring discomfort including achiness and pain, as well as a sense of self-consciousness.
If you're dealing with varicose veins, you're not alone. The good news is that help from the most advanced varicose vein doctor in Edgewood, Maryland is readily available!
What Treatments Does the Most Advanced Varicose Vein Doctor in Edgewood, Maryland Offer?
Here are four of the top options your phlebologist, or vein specialist, may recommend for the treatment of varicose veins:
Sclerotherapy, a minimally invasive procedure widely regarded as the gold standard of vein treatment, involves the injection of a specialized solution, a sclerosing agent, into the affected vein. This solution irritates the vein walls, prompting them to collapse and gradually be eliminated naturally by the body.
Endovenous laser treatment, or EVLT, manages varicose veins through the application of laser energy. In this procedure, a varicose vein specialist delicately inserts a catheter into the afflicted vein with the guidance of ultrasound technology. The laser at the end of the catheter heats the vein walls which leads to the closure of the vein. Like with sclerotherapy, the vein is then absorbed by the body.
Radiofrequency ablation, or RFA, serves as another minimally invasive technique embraced by varicose vein experts. This method harnesses the power of radiofrequency (RF) energy to generate heat, thereby sealing the compromised vein. As with the other methods, the treated vein undergoes gradual absorption by the body.
Ambulatory phlebectomy is a surgical procedure that involves the removal of protruding varicose veins situated near the skin's surface. Small incisions are made along the path of the targeted vein, which is then extracted.
Eliminate Unsightly Blood Vessels With the Specialists Here at The Vein Center of Maryland
For the most advanced varicose vein doctor in Edgewood, Maryland or nearby, come to The Vein Center of Maryland. With multiple locations across the area and free consultations, safe, effective, and convenient vein care has never been easier.
Call us today at 410-970-2314 to schedule your appointment at the location nearest you!